---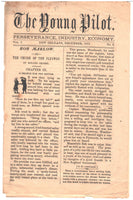 rare New Orleans newspaper containing 4 pages plus a two page supplement. 8vo (6" x 9 1/2") owned and edited by F. F. Hansell, S. L. Gilmore and J. F. Waldo.  According to the paper " the Young Pilot is an amateur paper that is going like hotcakes...". The paper includes an interesting scientific article on creation, a mention of Capt. Fulton and the ship Vigilante, a Werlein's piano and organ ad and other ads and articles.  The newspaper is in Very Good condition.

F. F. Hansell was born  in New Orleans in 1859 and followed his his father in the publishing business. In 1877 he opened his own publishing and printing business establishment at 30 Camp Street under his name. He was very successful and was joined in the business by his brother Morris in 1885. In 1889 the firm moved to larger quarters at 94 & 96 Canal Street and by 1900 they were in a a palatial 5 story building located at 714-716 Canal Street. During his career Hansell published Louisiana Law Books, children's books, books authored by the noted Lafcadio Hearn and many more diverse books, pamphlets, postcards, maps and other printed matter.

S. L. Gilmore probably also came from a family of printers and publishers as a J. Y. Gilmore also had a printing business located at 6 Camp Street and was active during the same time in New Orleans and New Iberia.
There are no copies of this paper listed in OCLC.